Do you golf? Do you like to have fun? Get a foursome together and golf with a bunch of amazing women for charity! Prizes, drinks, dinner and fun are all on the agenda… and it's all for a couple of great causes: The Oregon Food Bank and NE PDX Backpack Lunch Program. This tournament is for members and non-members of The Greater Portland Chapter of Women's Council of Realtors on Wednesday, August 13, 2014. Shotgun start at 1 pm.
This is a DRIVING COURSE, so carts will be provided. After 18 holes, dinner will be provided. Prizes will be awarded for some unusual happenings on the course. Non golfers are welcome to join the group for Dinner at $20.00 per person.

Drinks will be offered on the course and I plan on having some awesome promotional items! Please bring cans of food for the Oregon Food Bank. More info and register here.
See you there!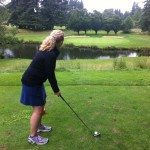 Tags: charity, events, fun, fundraising, golf, Oregon, Portland, real estate, realtors